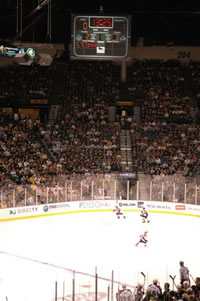 Turn any computer into a professional scoreboard with our easy to use software. Our software scoreboards are best utilized with a video projector or TV in locations such as gyms, pools, and fields. Use the display and computer you already have as an inexpensive alternative to costly hardware scoreboards.
Currently, we have scoreboards for the following sports: Basketball, Hockey, Volleyball, Soccer, Wrestling, Football, Baseball, Roller Derby, and Tennis. We also have other scoreboards such as a score banner for displaying scores over video and a general multi-team scoreboard. Contact us to inquire about additional features or a custom scoreboard.
Download and try any of our scoreboards for free. For uninterrupted use, we ask that you purchase a license through our website. Registration is immediate so that you will have complete, uninterrupted access to use the scoreboard within seconds.